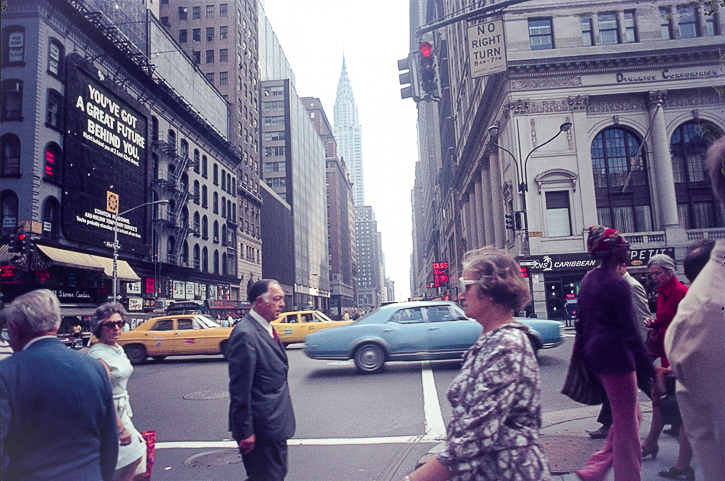 Getty Images, 1976 NYC
A Legendary Seminar in New York City: "Buddhadharma Without Credentials"
Chogyam Trungpa was no stranger to the river of yellow cabs, sparkling skyscrapers, and screaming sirens of New York when he gave the now-historic seminar "Buddhadharma Without Credentials" in a landmark downtown building in 1973. Shortly after his arrival in the U.S. three years before, Trungpa Rinpoche had addressed a restless crowd at The Asia Society uptown — supposedly about Tibetan art, but actually, at his own insistence, more about meditation. On the far end of the cultural spectrum, a year later Trungpa Rinpoche appeared on WNET's freewheeling public television program "Free Time", also in New York, with the poet Allen Ginsberg.
But Trungpa Rinpoche's real goal on his many visits to New York City in the early 70s (by all accounts he also loved the energy there) was to present the authentic Buddhist teachings to an intellectually sharp, sometimes challenging, but ever-growing audience of New Yorkers interested in spirituality. First, though, Trungpa Rinpoche had to dispel any misconceptions about what a genuine spiritual path is. When he says "without credentials", he means practicing spirituality in a way that undoes rather than enhances ego. In this uncompromising seminar of 1973, Trungpa Rinpoche laid the groundwork for anyone there, or who read the materials that came out of it (some of the talks became key chapters in the classic book The Myth of Freedom) to practice and study Buddhism in a thoroughgoing way.
Trungpa Rinpoche translates the traditional teachings here in a style that makes them completely relevant and applicable to our often hectic contemporary life. He also articulated in that downtown loft some of the foundational language, imagery, and ideas that would inform the heart of his teachings going forward. These include "cool boredom" (the ability to experience simplicity in meditation practice); "the lion's roar" (the fearless proclamation that anything that arises is workable); and "chaos is extremely good news" (a willingness to incorporate any unexpected problems as part of one's spiritual path).
The Chogyam Trungpa Digital Library now opens a window onto the historic talks from the original seminar in 1973, so that anyone — people just beginning to study Buddhism or those who have been practicing for years — can experience afresh what those unflappable New Yorkers heard exactly five decades ago. Even, in the context of any emotion being workable, how "depression [can] become a beautiful walkway." They will also hear Allen Ginsberg ask a poignant question about "prayer, meditation, and depression," and his close friend Lucien Carr — the legendary person said to have catalyzed the Beat Generation when he introduced Ginsberg to Jack Kerouac and William Burroughs at Columbia in the 40s — make a perhaps less poignant statement, audible only to those who listen very carefully.
In these five talks, Trungpa Rinpoche brings into clear and unvarnished focus the essential features of the Buddhist path: the simplicity of meditation practice, seeing through deception, relating with a teacher, and understanding one's own mind, in a way so that everyone listening to these teachings can feel buoyed and strengthened in their practice, whether in the midst of Madison Avenue or on a desert retreat.
Listen to the "Buddhadharma Without Credentials" seminar: