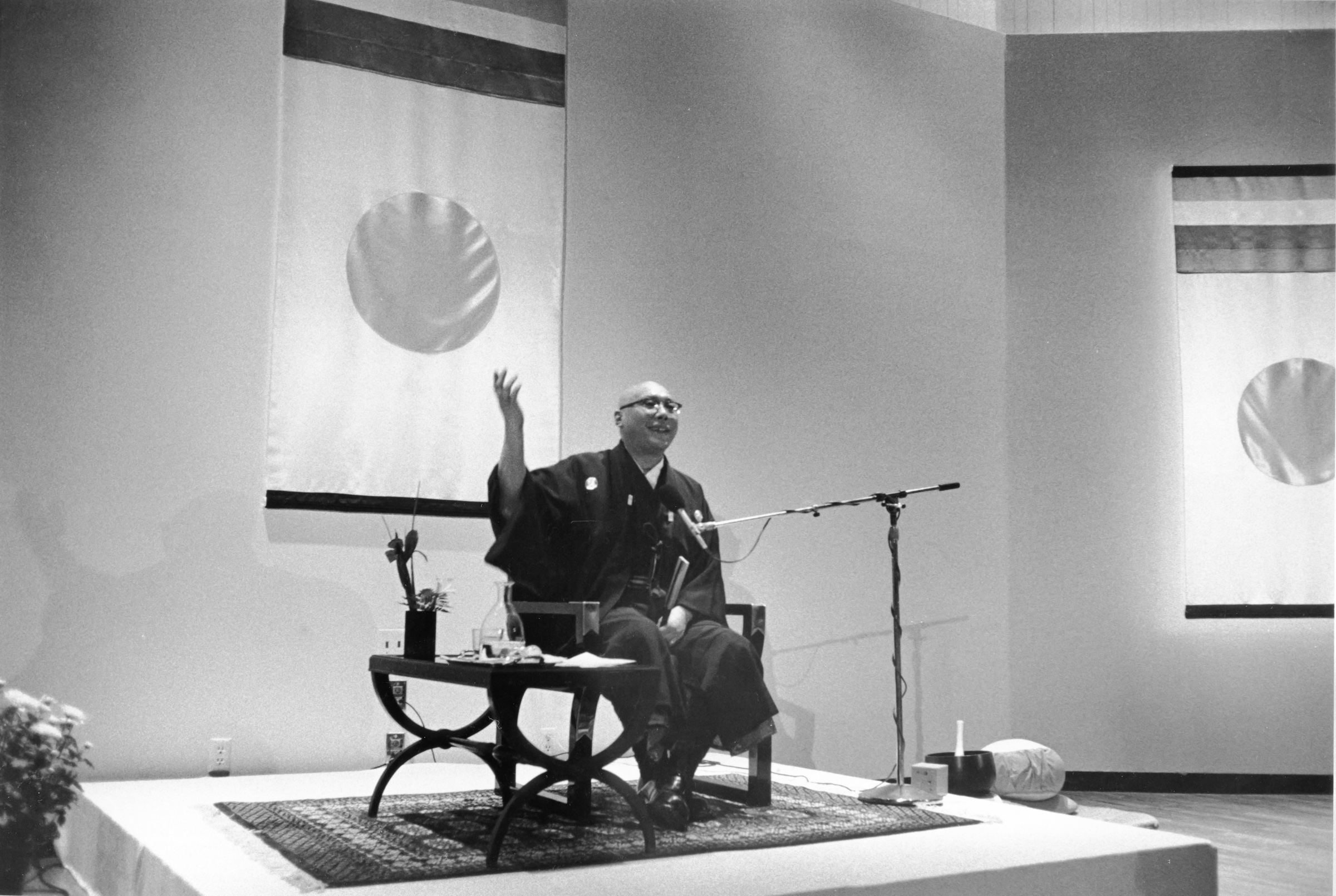 Photo by Mary Lang
Chogyam Trungpa Rinpoche
Chogyam Trungpa is widely regarded as one of the most influential and prolific Buddhist teachers of the 20th century. Arriving in America in 1970, he played a pivotal if not central role in establishing the authentic teachings of Buddhism in the West. Trungpa Rinpoche ("Rinpoche" being an honorific term for noted Tibetan teachers) was also instrumental in catalyzing major shifts in the culture at large, particularly in the introduction of mindfulness and contemplative practice in the fields of art, psychology, and education. Over the 17 years of his teaching in North America, Trungpa Rinpoche founded over 100 dharma centers, a Buddhist-inspired university, the first Tibetan Buddhist monastery in North America, three retreat centers, a translation committee for the translation of Buddhist texts into English, and Shambhala Training, an international secular meditation and study program. In his lifetime, Chogyam Trungpa published 13 books, some of which have become classics in Buddhism for contemporary readers. Approximately 30 additional books based directly on his teachings have been published since his passing, and many more are planned.
Origins in Tibet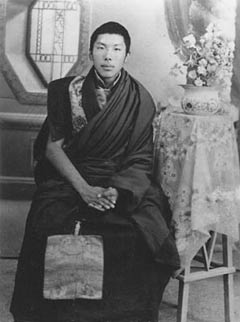 Chogyam Trungpa's life unfolded along the fault lines of some of the major changes of the 20th century. Born in Eastern Tibet in 1939, he was recognized as an infant as the reincarnation of a major line of tulkus, or incarnate lamas, in the Kagyu lineage — the Surmang Trungpa Tulkus. Enthroned at 18 months old, Trungpa Rinpoche was among the last generation of Tibetan teachers to undergo the intensive monastic and scholarly training that had been in place in Tibet since the 8th century (described in detail in his 1969 book Born in Tibet). As the Chinese began their takeover of Tibet in 1959, at age 19 Trungpa Rinpoche led a party of over 300 refugees across the treacherous Himalayan mountains, in an escape to India that lasted 10 months. Once in India, he was appointed Spiritual Advisor to the Young Lamas Home School in Delhi by the Dalai Lama.
Great Britain
Trungpa Rinpoche's curiosity about the West had been sparked when he was in his teens in Tibet. In 1963, a first step toward realizing his dream of teaching Buddhism in the West came when he received a scholarship to Oxford, where he would study comparative religion, history, political theory, and philosophy. Arriving in England at 23, Trungpa Rinpoche became the first Tibetan lama to teach Buddhism in English to Westerners, and in 1967 he established Samye-Ling Monastery in Scotland. His first two books, Born in Tibet (with Esme Roberts) (1966) and Meditation in Action (1969), were published while he was in Great Britain, and both were released in North American editions.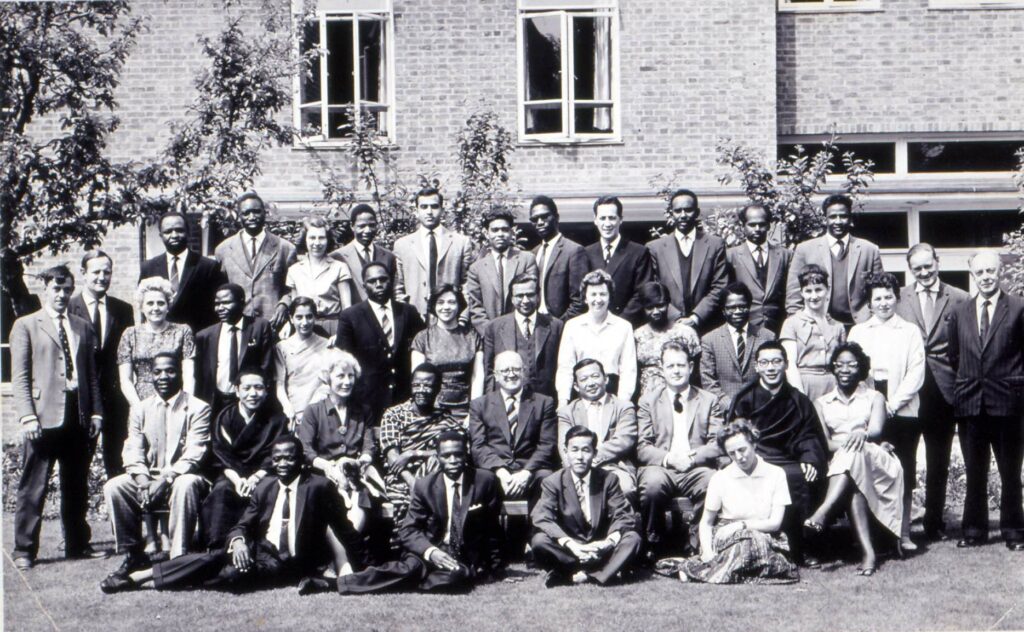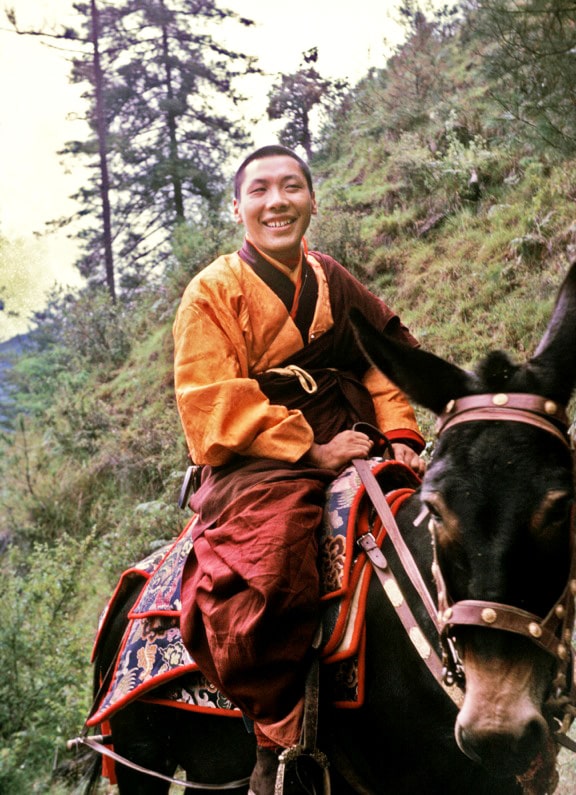 Retreat in Bhutan
Trungpa Rinpoche undertook a pivotal meditation retreat in Bhutan in 1968 ­­­­that transformed his thinking about presenting the teachings of Buddhism to the West. Upon his return to England, he relinquished his monk's robes and vows, and in 1970 married a young Englishwoman, Diana Pybus. This created some controversy among some teachers in the Kagyu lineage, but Trungpa Rinpoche was adamant that for Western students to truly understand the dharma, they would have to see beyond the exoticism of his monastic robes and vows, and relate to him as part of their own society.
Arrival in North America
In 1970, Trungpa Rinpoche and his wife Diana emigrated to the United States. At that time the "counterculture" was becoming mainstream, and Americans were embracing Eastern religion, spirituality, and consciousness-raising in unprecedented numbers. Few teachers, however, were offering genuine paths that communicated the depths of their traditions. The times were also rife with self-styled gurus, presenting a smorgasbord of spiritual practices that Trungpa Rinpoche dubbed a "spiritual supermarket."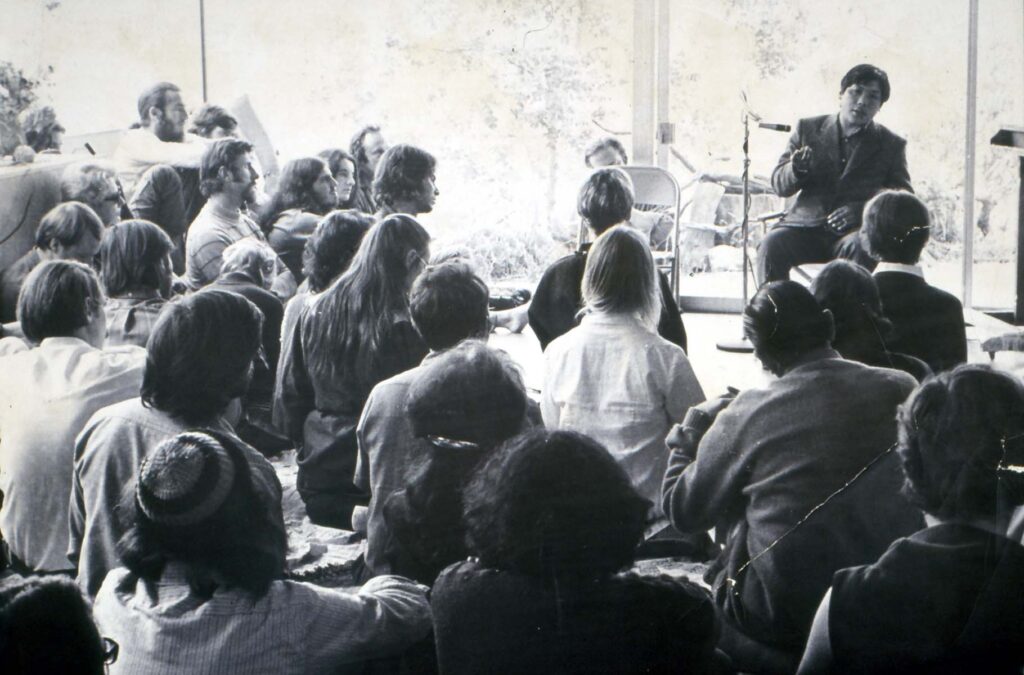 But Americans' receptivity to genuine spirituality was apparent in the size of the audiences Trungpa Rinpoche's early lectures drew, and the number of invitations he received to teach. In 1973, Trungpa Rinpoche published the book Cutting Through Spiritual Materialism, which sold 100,000 copies in the first year alone, and is still widely read, including in college courses.
Presenting Buddhism in the West: A New Language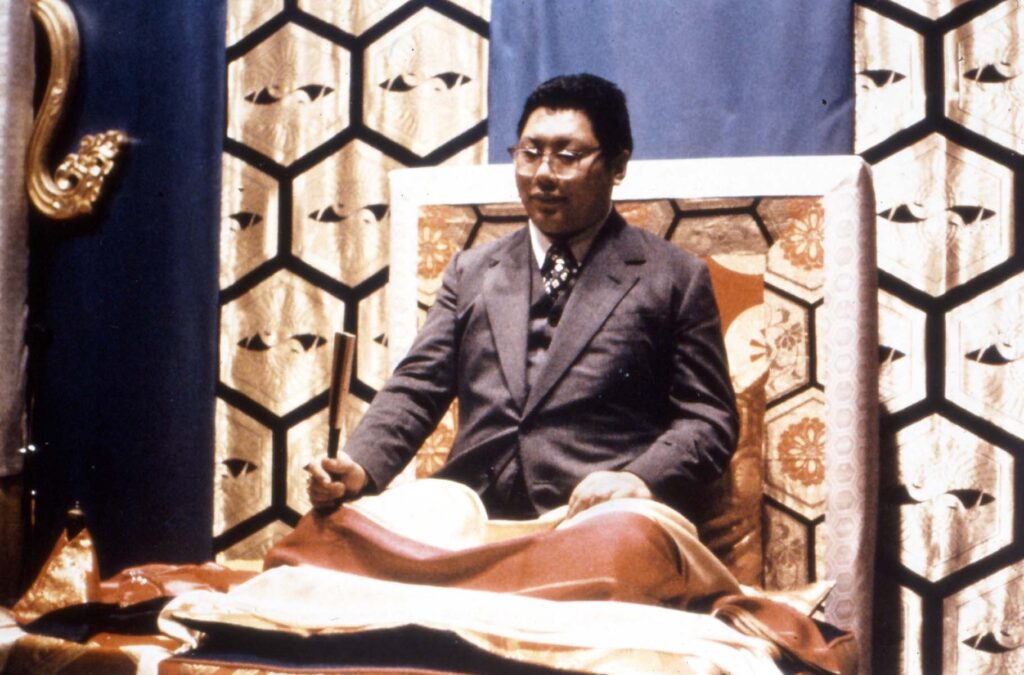 From the beginning, Trungpa Rinpoche's approach to presenting Buddhism was grounded in the training he had received in Tibet, with a focus on working directly and simply with one's own mind in meditation. Even as he taught the more "advanced" and detailed aspects of the Buddhist path, basic meditation practice remained as the foundation of everything he taught.
At the same time,Trungpa Rinpoche introduced a revolutionary new approach to presenting the traditional teachings of Buddhism to Western audiences, including using the language of contemporary psychology to communicate Buddhist ideas and practices. Much of the terminology he coined has now entered the lexicon of how Buddhism and mindfulness are spoken of in the contemporary world.
From the time he arrived in America, Trungpa Rinpoche traveled almost nonstop, giving public talks, seminars, and weekend programs in urban, retreat, university, and other settings. The material he eventually presented would encompass almost the entire range of Buddhist teachings in his tradition, from the basics of meditation, to the path of the bodhisattva, and the more advanced teachings of tantra. For many thousands of people, attending a talk by Trungpa Rinpoche represented their first experience of the teachings of Buddhism.
Naropa Institute
In 1974, Trungpa Rinpoche founded Naropa Institute in Boulder, Colorado. He invited leading figures from the worlds of art, psychology, sociology, and various spiritual traditions to teach at Naropa, and most of them came. Naropa Institute (now Naropa University) quickly became an important nexus for new thinking focused on how contemplative and meditative practices could impact the arts, psychology, education and other disciplines, to bring about social change. It continues to function in that capacity today.
Teacher as Artist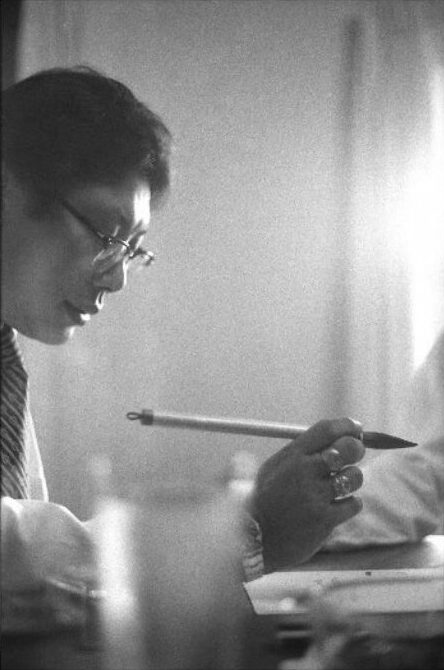 In addition to his role as a Buddhist teacher, Chogyam Trungpa was an accomplished artist in many media, including poetry, painting, calligraphy, and photography. He was also a master in the Sogetsu school of ikebana, or Japanese flower arranging. Trungpa Rinpoche's work as an artist, as well as a curator, led to major exhibitions, including at The Institute of Contemporary Art in Los Angeles, M.I.T., and The Asia Society in New York, among others. He counted among lifelong friends and colleagues some of the most prominent artists, writers, and thinkers, as well as spiritual leaders, of the last half of the 20th century.
A Bridge to the West
Chogyam Trungpa in many ways prepared the ground for Buddhism to be established and flourish in the West. In the 1970s, he established Vajradhatu as the national and later international organization and headquarters for his Buddhist work, which eventually included more than 100 meditation centers and several residential retreat centers.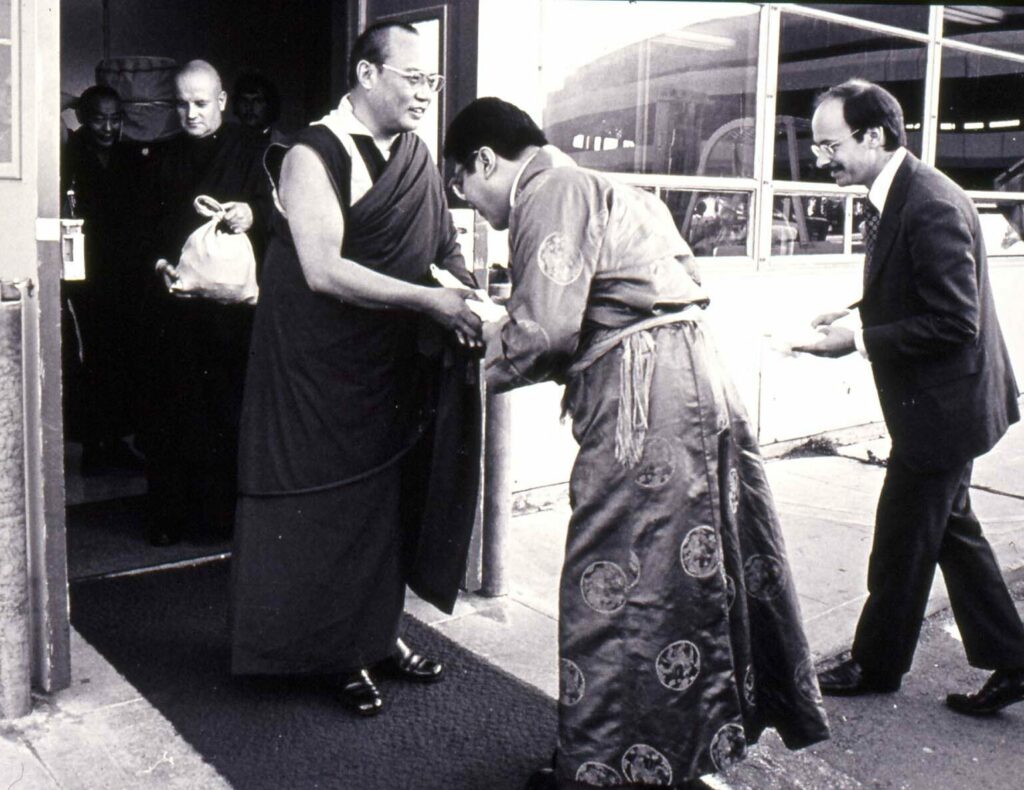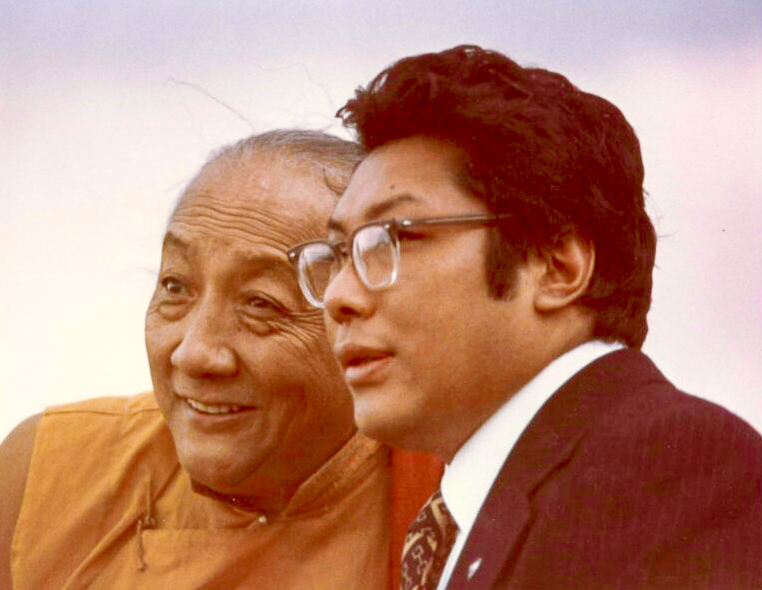 In addition to his own activities, he was responsible for bringing many of the last generation of lineage holders trained in Tibet to teach in North America, including His Holiness the 16th Gyalwa Karmapa, Dilgo Khyentse Rinpoche, and many others. He also had close colleagues in the Zen and Vipassana traditions, and his own teachings explored the divergences and similarities between various traditions. In these and other ways, Trungpa Rinpoche forged a direct link between the millennia-old Asia-based teachings of Buddhism and the Western world. At the same time, Trungpa Rinpoche tapped into the currents of contemporary Western society, and in his lifetime catalyzed greater dialogue around the ideas of compassion, self- awareness, and wakefulness, across fields as diverse as psychology, education, and the arts. He was also emphatic throughout his life on the relevance of spirituality to everyday life.
The Shambhala Path and Later Years
In the late 1970s, Trungpa Rinpoche introduced the Shambhala teachings and practices, a secular approach to meditation and the warriorship tradition of cultivating fearlessness. The first book based on these teachings, Shambhala: The Sacred Path of the Warrior, was published in 1984, and has since been translated into 17 languages.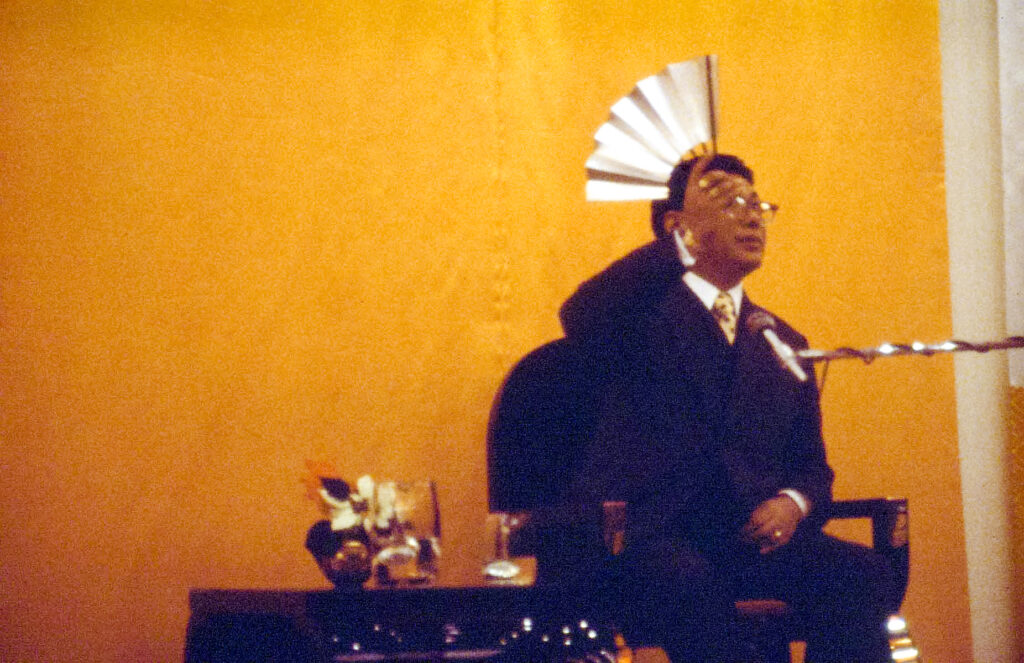 In the latter part of his life, Trungpa Rinpoche's teachings focused more on ways in which meditation and other Buddhist and Shambhala traditions and practices could directly contribute to making the world a saner and healthier place, never ultimately giving up on the idea of the possibility of creating an "enlightened society."
Chogyam Trungpa died in Halifax, Nova Scotia in 1987, at the age of forty-seven. His legacy continues to be felt, through his teachings, the work of his students, and the many organizations and institutions he helped found.